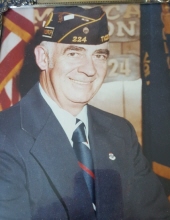 Obituary for Gordon "Sonny" J. Marek, Sr.
Ticonderoga. Gordon James Marek, Sr. (Sonny Marek) went to be with our Lord on October 30, 2017. He passed away at Heritage Commons Residential Health Care after a long illness.

Sonny was born in Whitehall, New York, on September 6, 1927 to Grace Woodard Marek and James T. Marek.

Sonny is preceded in death by his parents and his two brothers – Ernie, who lived in Charleston, South Carolina and Billy, who lived in Tucson, AZ. He is also preceded in death by his wife, Cora Hogle Marek, to whom he was married for 24 years. Sonny leaves behind two step-daughters, Linda Joiner and Connie Hartley and three step-grandchildren and numerous step-great-grandchildren.

Sonny was previously married to Arlene Gandron Marek of Ticonderoga. They had four children; Gary Marek, now of Colorado; Darlene Marek Ball, now of Connecticut; Gordon J. Marek, Jr. (Jim), now of Lake George, NY; and Patricia Marek Vowles, now of AZ. Sonny has been blessed with five grandchildren and three great-grandchildren. He also leaves behind numerous nieces and nephews.

Sonny graduated from Whitehall High School in June of 1944 and immediately joined the U.S. Navy. He served with the Navy Seabees in the Philippines for the rest of World War II. Sonny also played drums for the U. S. Naval Band. Sonny retired from the Navy on October 28, 1957 and joined the U.S. Air Force on November 4, 1957. (Being in the Navy kept him away from his family too much.) Sonny served in Izmir, Turkey for three years working as a liaison with NATO; he fought in the Vietnam War for a year; and was stationed at various Air Force bases throughout the United States. Sonny retired from the Air Force on May 31, 1971, and returned to Whitehall where is became a postal worker. He soon transferred to the Ticonderoga post office where he carried mail and became a friend to all for 17 years.

In addition to serving his country through the Navy and Air Force, participating in two wars, and being a mail carrier, Sonny was also a son, father, grandfather, and friend to many. He participated in the Elks, Knights of Columbus, and VFW, even serving as the Commander of the local branch for a time. Sonny came from a very musical family and played many instruments growing up, but finally settled on the drums as his favorite. He played at venues in the many places he was stationed and was a regular at bars and other festivities in the Ticonderoga area for many years. In addition to his passion for the drums, Sonny also had a passion for bowling. He loved to bowl and did it so smoothly and effortlessly that he always held an extremely high average on the many teams he played on well into his 70's. However, the perfect game always eluded him. He bowled a 299 on March 27, 2003, at the Adirondack Lanes in Ti -- he was 75 years old -- what an achievement!

Sonny will be missed by all who knew him and loved him, especially his family. God blessed him and us!

Relatives and friends may call Monday, November 6, 2017 from 10:00 a.m. to 11:30 a.m. at the Wilcox & Regan Funeral Home, 11 Algonkin St., Ticonderoga. A Funeral Service will follow at 11:30 a.m.. at the Funeral Home. The Rev. Mr. Elliott A. Shaw, will officiate.

The Rite of Committal will follow at the family plot of St. Mary's Parish Cemetery of Ticonderoga.

In lieu of flowers, contributions may be made to St. Mary School, 64 Amherst Ave., Ticonderoga, NY 12883, or to a charity of your choice.
Previous Events
Visitation
Wilcox & Regan Funeral Home
11 Algonkin St.
Ticonderoga, New York 12883
A Funeral Service will follow at 11:30 at the Funeral Home, followed by the Rite of Committal at St. Mary's Parish Cemetery of Ticonderoga.
Cemetery Details
Location
St. Mary's Parish Cemetery
Alexandria Ave
Ticonderoga , NY 12883