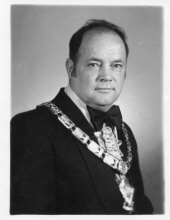 Obituary for Robert F. "Bob" Connors
Ticonderoga. On March 6, 2018, Robert F. "Bob" Connors, 81, passed away peacefully at the Heritage Commons in Ticonderoga, surrounded by his family.
Born on October 1, 1936, in Ticonderoga, he was the son of the late Francis M. and Beatrice (Hebert) Connors.
On April 5, 1959, he married the love of his life, Anne Thompson, in Ticonderoga.
Bob's greatest pride was the life he created with Anne and their six children in the old farmhouse where they lived for many years on Shore Airport Road. It was a large, happy home where all (adults, children, animals too) were welcome - the door was always open to neighbors, family and friends. Bob and Anne were famous for large family gatherings, with more food than you could imagine, and always room for one more seat at the table.
As his family was growing up, summer family vacations were often spent camping at Knob Pond. The fall always meant it was deer hunting and big game season for Bob. He enjoyed riding snow-mobiles with his children through the fields at their home, and could often be spotted pulling the younger ones behind his orange Ski-doo in a vintage orange sleigh or the large toboggan. Bob very much enjoyed playing golf. He was an avid fan of the New York Giants as well as the Boston Red Sox. When his children were in school, Bob was often the loudest cheerleader in the crowd at any Ticonderoga Sentinels game.
Bob worked for International Paper early in his life. Also, he was a member of Labor Local Union No. 186 for many years. In 1978 he was appointed as the Highway Superintendent for the Town of Ticonderoga, a position he held until 1994. Bob then returned to International Paper where he worked until his stroke in 1995.
He was a proud and loyal member of the Ticonderoga Chapter of the Elks Club BPOE 1494 since 1959. He served as as Exalted Ruler from 1978 - 1979, District Deputy from 1981 - 1982, NYSEA Tiler 2002 - 2003, and in 2003 was elected as a lifetime member. He was involved in many charitable community functions as a member of the Elks.
As a student, Bob participated in sports. He lettered in both football and track throughout his tenure at Ticonderoga High School.
Bob loved working with horses. Throughout the 1960's, he won many ribbons and awards from showing his Arabian mix mare, Misty, at area horse shows which he traveled to with his friend, Don Smith, throughout New York State and Vermont.
In addition to his parents, Bob was predeceased by his brother Michael Connors, his sister Patricia and her husband Peter Allen, his sister-in-law Mary (Richard) Connors, his mother-in-law, Ruth Thompson, his father-in-law Percy Thompson, his brother-in-law Edwin Thompson, his sister-in-law, Alma Thompson, his son-in-law, Craig Laslow, and his infant grandson, Cameron Kahler.
In addition to his wife of 59 years, Anne, those left to cherish his memory include his six children, Annette (Donald) Maye, Francis "Pat" (Laura) Connors, Jennifer (Stephen) Bolton, Thomas Connors, Jill (Thomas) Robbins, and Roberta (John) Cooper; his nine grandchildren, Amanda (Brett) Bechtold, Briton (Jenna) Laslow, Raechel (Adam) Deso, Lindsey Connors, Sean Connors, Jessa Kahler, Noelle (Kyle) Lindsay, Garrett Cooper, and Keely (Brandon) Whalen; his seven great-grandchildren, Rowen and Nolan Bechtold, Hank Deso, Craig and Jack Laslow, and Leighanna and Abigail Lindsay. One brother, Richard Connors; one sister Peggy Ladd. As well as several step-grandchildren, including Chrysta (Brian) Burkholder, Corey Robbins, Jake (Bobbi Jo) Maye, Kasie (Jay) LaPointe, and Jesse Maye; and step great-grandchildren, including Adara and Noah Burkholder, James Robbins, Devyn, Dylan and Meegan Maye, Steven and Kaylin Barnaby, Maysen, Eastin, Holden, and Coleman LaPointe, and Maddelina and Brayden Maye; along with many nieces, nephews, neighbors and friends.
Words cannot express the heartfelt appreciation we have for the sincere love and friendship given to Bob, Anne, and our family over the many years from our neighbors – the entire Landers family in Ticonderoga, notably Sally Senneville the "world's best babysitter", as well as Lee and Jeanine Simmons and Richard and Nina Skiff of Sherman Lake. A special thanks to Loretta and Lucky Eubar who came with a phone call in the middle of the nights when Dad fell.
We also want to express our appreciation for the kindness and compassion given to Dad during his stay at Essex Center in Elizabethtown, New York, and Heritage Commons Residential Center in Ticonderoga by the entire staff of caregivers – we are so grateful for your kind heartedness and care during Dad's stay. You are very special and dedicated people.
Relatives and friends may call Saturday, March 10, 2018 from 1 p.m. to 2:30 p.m. at the Wilcox & Regan Funeral Home, 11 Algonkin St., Ticonderoga.
A Funeral Service will follow at 2:30 p.m. on Saturday at the Funeral Home. The Rev. Mr. Elliott A. Shaw will officiate.
Interment will take place at a later date at the family plot at Valley View Cemetery of Ticonderoga.
To offer online condolences, please visit www.wilcoxandreganfuneralhome.com
"We will forever love and miss you – we will always cherish and hold close to the memories we shared."
Previous Events
Visitation
Wilcox & Regan Funeral Home
11 Algonkin St.
Ticonderoga, New York 12883
A Funeral Service will follow at 2:30 p.m. at the Funeral Home. The Rev. Mr. Elliott A. Shaw will officiate.